Affiliates
Increase your earnings promoting our program.
You will get 5.0% of every purchase made by a user referred by you.
Referral commission is paid to you for lifetime of referred accounts.
If you sell traffic, button on your site will increase your profit by additional 5%
You can use text link or any of our banners.
Use link: http://www.clicksagent.com/?ref=user_name
Our banners:

<a href="http://clicksagent.com/?ref=

user_name

"> <img src="http://img.clicksagent.com/468x60_1.gif" width="468" height="60" alt="Clicks Agent"/> </a>

<a href="http://clicksagent.com/?ref=

user_name

"> <img src="http://img.clicksagent.com/468x60_2.gif" width="468" height="60" alt="Clicks Agent"/> </a>

<a href="http://clicksagent.com/?ref=

user_name

"> <img src="http://img.clicksagent.com/468x60_3.gif" width="468" height="60" alt="Clicks Agent"/> </a>

<a href="http://clicksagent.com/?ref=

user_name

"> <img src="http://img.clicksagent.com/100x100_1.gif" width="100" height="100" alt="Clicks Agent"/> </a>

<a href="http://clicksagent.com/?ref=

user_name

"> <img src="http://img.clicksagent.com/100x100_2.gif" width="100" height="100" alt="Clicks Agent"/> </a>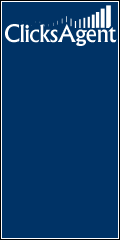 <a href="http://clicksagent.com/?ref=

user_name

"> <img src="http://img.clicksagent.com/120x240_1.gif" width="120" height="240" alt="Clicks Agent"/> </a>

<a href="http://clicksagent.com/?ref=

user_name

"> <img src="http://img.clicksagent.com/120x60_1.gif" width="120" height="60" alt="Clicks Agent"/> </a>

<a href="http://clicksagent.com/?ref=

user_name

"> <img src="http://img.clicksagent.com/120x60_2.gif" width="120" height="60" alt="Clicks Agent"/> </a>

<a href="http://clicksagent.com/?ref=

user_name

"> <img src="http://img.clicksagent.com/120x60_3.gif" width="120" height="60" alt="Clicks Agent"/> </a>

<a href="http://clicksagent.com/?ref=

user_name

"> <img src="http://img.clicksagent.com/120x60_4.gif" width="120" height="60" alt="Clicks Agent"/> </a>

<a href="http://clicksagent.com/?ref=

user_name

"> <img src="http://img.clicksagent.com/banner1.gif" width="120" height="60" alt="Clicks Agent"/> </a>

<a href="http://clicksagent.com/?ref=

user_name

"> <img src="http://img.clicksagent.com/banner2.gif" width="120" height="60" alt="Clicks Agent"/> </a>

<a href="http://clicksagent.com/?ref=

user_name

"> <img src="http://img.clicksagent.com/banner3.gif" width="120" height="60" alt="Clicks Agent"/> </a>

<a href="http://clicksagent.com/?ref=

user_name

"> <img src="http://img.clicksagent.com/banner4.gif" width="120" height="60" alt="Clicks Agent"/> </a>

<a href="http://clicksagent.com/?ref=

user_name

"> <img src="http://img.clicksagent.com/banner5.gif" width="120" height="60" alt="Clicks Agent"/> </a>

<a href="http://clicksagent.com/?ref=

user_name

"> <img src="http://img.clicksagent.com/120x60_4.gif" width="88" height="31" alt="Clicks Agent"/> </a>